Maximize attendee engagement and networking with RoloNext App
Deliver user-friendly networking opportunities and increase interactions
Enhance your event experience
Add value to your networking event and allow your attendees instantly connect and share contact information digitally with a tap of a finger.
RoloNext app allows you to package all the information that the typical business card includes into an interactive digital card, that can be transferred by holding phones nearby or conventionally, by SMS, email or any other media.
Instantly create RoloNext card
Attendees can instantly create their RoloNext card in our mobile app. Sign up with a LinkedIn account or email address and make a card in few simple steps.
Existing LinkedIn users won't need to fill in their information, as the app can access their profile and instantly make a card.
People will be able to use their cards immediately.
Let people connect in a modern way
With our unique technology, attendees can share their digital cards from their phones with other users nearby without being connected to the internet.
The app discovers other users nearby and displays their names on the top screen.
Simply tap on their name and the card is transmitted instantly.
Share your Rolonext card with few people in one click
Just like you would share your paper business card, you can share your Rolonext card with few people in one click.
Long-press on your card and click the "broadcast" option.
The App will instantly share your card with multiple devices of people nearby you.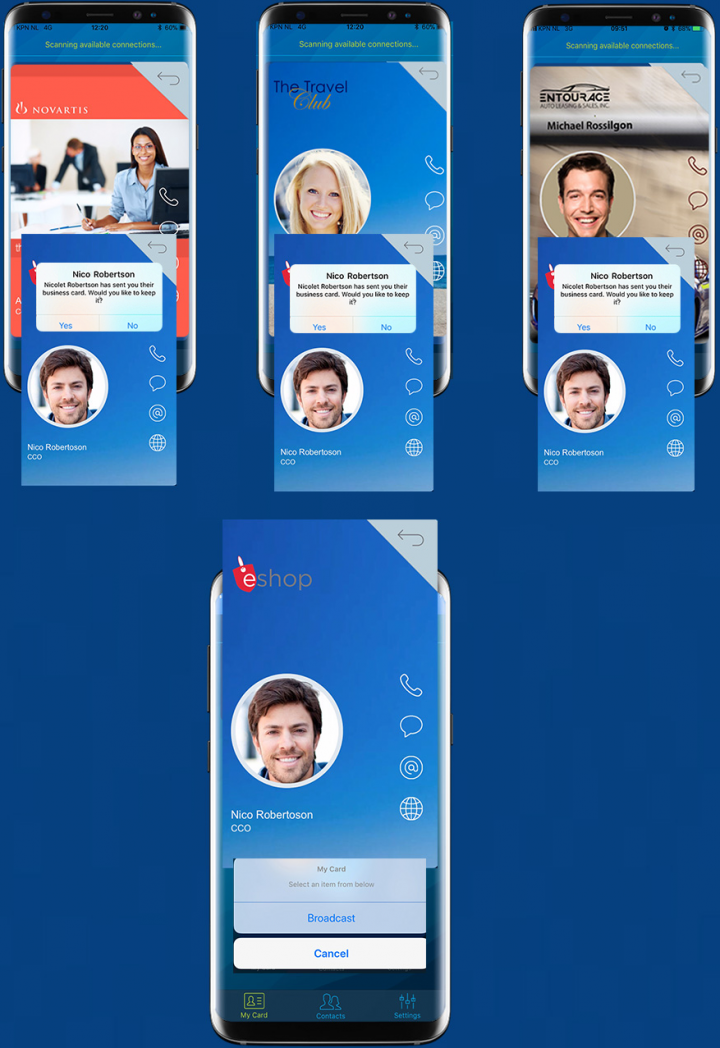 Empower attendees with an innovative lead capture
Enable attendees to capture leads with smartphones.
After the event, attendees can easily export all new contacts and sync it with their CRM or other systems they work with.
Stay informed with real-time event data and measure attendees' engagement.
Get a ready-made report that demonstrates how you engaged your participants, created a valuable experience, and increased event ROI.
Can we pay you every month?
YOUR ATTENDEES   +   ROLONEXT PREMIUM   =   CASH FOR THE EVENT ORGANIZER
Any Rolonext user can upgrade to a Premium version of our app, which includes additional features that are not offered in the free version.
If any of your even attendees upgrade to the Premium version of the Rolonext app, we will split a portion of that revenue with the event organizer, provided that event organizer has signed a two-year agreement with us to host their networking event exclusively on RoloNext.
Watch a demo and learn how
Rolonext can help:
Maximize attendee engagement and networking
Deliver user-friendly networking opportunities and increase interactions
Enable attendees to connect in a modern way and easily stay in touch after the event
Empower attendees with an innovative lead capture
Understand what's going on during your event, measure attendees' engagement in real-time
Simple, innovative, and fun!
SEE HOW YOUR CARD WOULD LOOK LIKE
Design your card on the next few screens then login on your smartphone to share it.